Happy New Year Internet! Oh it's the 16th? Did I miss it? Well shit. I've had a busy winter holiday period/ Christmas time so I guess I have an excuse. No? I'm lazy and just wanted to play DayZ and Warhammer 40K? Ok you got me. But I'm trying to get back into a regular blogging rhythm. So with that in mind prepare yourselves for THE FIRST POST OF THE NEW YEAR (read that in a booming sonorous voice for extra epic points).
NEEEEEEWWWWW YEEEEAAAARRRRHHHHHH
I've
mentioned
before
that I'm a big fan of Games Workshop and it's various rather expensive uses of polymers but since about two years ago I haven't really tried to build a new army, especially not one made specifically for the new edition of the Warhammer 40K rules. That all changed last weekend when GW released this rather lovely book:
Ok Steve move your bolt pistol up a bit... a bit more... man it's hard to frame this shot with all those flags in the background
You see I've always loved the Dark Angels, since I was but a wee nipper they have been my favourite Space Marines chapter. So when I heard a new codex was being released for them (without Matt Ward's Involvement) I got quite excited. I may have squeaked a bit. In a manly way of course. On Saturday I finally got my hands on it and boy does the finished product live up to my expectations. At £30 the price is a bit steep but the fact that it's a hard back and in full colour makes up for this. Also the new codex lay out is really easy to use, everything is page referenced and there's even a fold out 3 page reference section at the back opposite all the stat lines for universal special rules and so on. So no stopping a game for ages while you flick back and forward through your codex.
Content wise the background (AKA 'Fluff') of the Dark Angels remains largely unchanged besides some minor changes to bring it in line with the Horus Heresy book series. This is a bit of a shame because I was hoping to learn a bit more about the secretive and shadowy first of the Space Marine Legions but if you've read the books there is nothing new for you here. There is one big new secret however, but I'm not telling for I have taken a sacred vow of silence. One nice addition is there are some basic army building tips buried in the fluff section of the book which grounds the tabletop game in the narrative quite well.
Now on to the biggest deal breaker of new codices for many hobbyists: the rules. As I said this is not a Matt Ward codex. It is not a clusterfuck of broken bullshittery. The author is Jeremy Vetock a veteran of Warhammer Fantasy army book writing but as far as I'm aware this is his first time writing a 40K codex solo. It would appear the boy done good. The new rules for existing Dark Angels units like the Deathwing and Ravenwing companies are full of little tweaks and intuitive special rules that make sense from both a gaming and fluff point of view. The Ravenwing for example now have the Hit and Run rule as standard on all bike mounted marines. This allows you to make daring lightning raids against enemy units then withdraw out of their clutches before making another pass at them or breaking away to another target. Deathwing Terminators also have the new Vengful Strike special rule which means that their shooting attacks are twin linked for the first turn after they deep strike and they can split their fire; shooting at more than one unit at once. New models also join the army roster including fragile but deadly fighter jets, tanky Deathwing Knights and the Landspeeder Vengeance, a Ravenwing landspeeder which can mount either a cloaking device that ups the cover save of all friendly units around it by 2 or a deadly Plasma Storm Battery which can take out Tanks and Troops alike. Also Asmodai is back!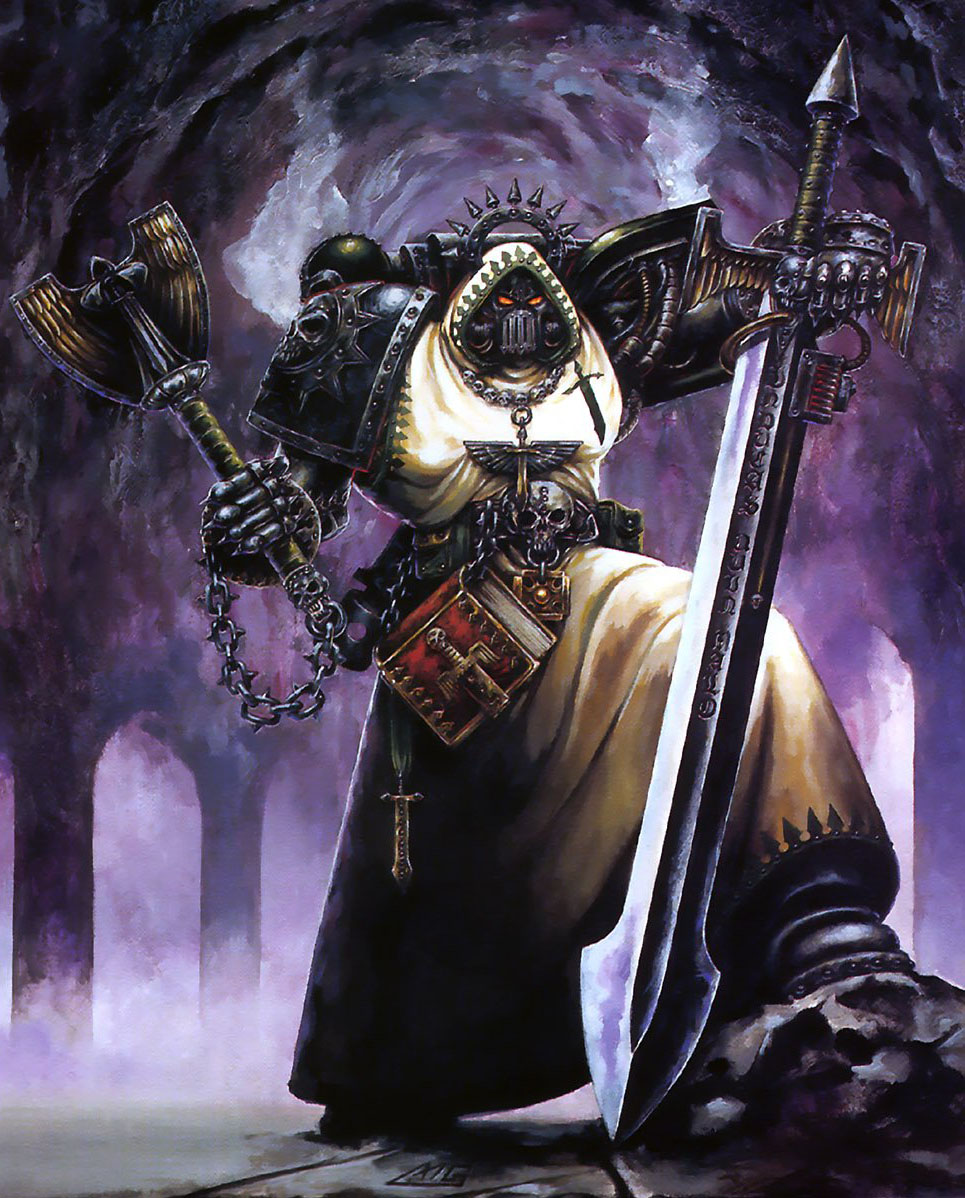 Sorry I was out at the unnecessarily big sword shop... I'm trying to keep up with these JRPGs that the kids keep talking about
Nothing in the codex seems overly showy or crazy overpowered it's just solid and well written. Also it doesn't feel dumbed down at all; the complexity of equipment choices for veterans etc is all still here, it's just organised better. What we have is simple task specific units that combine to make a whole which is much more than the sum of its parts.
Oh wait, I already did that
On the subject of putting units together I should probably use this codex to field some of the 3000 odd points of Deathwing Terminators I have sat gathering dust in a box somewhere.
But what are my plans for this force, how will they play and do I have some kind of a backstory in my head for them? You'll have to wait until next week to find out.
Stay Crunchy Internet